Pippin
Subject Spotlight- RE
In RE this term, Pippin have been thinking about the characteristics of the Christian God.
Pippin's children described the characteristics onto hearts on a rainbows to show Christians believe that God deeply loves the world and everything in it. They believe that he encourages all people to know Him and love Him. In return, God is wise, kind and forgiving of sins.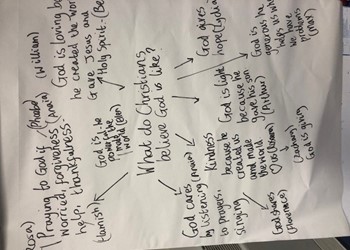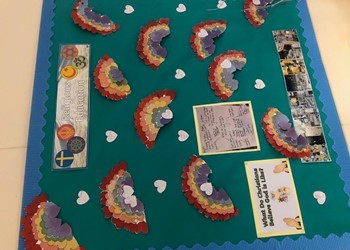 Subject Spotlight- English
Pippin children familiarised themselves with the traditional version of the tale Goldilocks and the Three Bears, using Lauren Child's version.  This helped to identify the elements of a traditional tale,  whilst identifying adjectives to describe the character of Goldilocks. 
They then used adjectives and adverbs to create a 'Wanted' poster that was displayed in the classroom.  In the final sessions, children wrote a sequel to the original story, where Goldilocks and the bears meet many years later. They participated in role play by engaging in imaginary conversations that the two characters might have had.  The children thoroughly enjoyed this which is reflected in the quality of their writing.